The Iron Springs Chateau presents -

THE ROCKY HORROR PICTURE SHOW!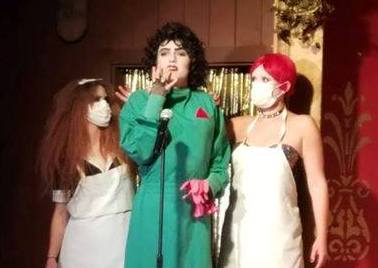 Richard O'Brien's 'Rocky Horror Picture Show' comes to the Iron Springs Chateau in October!
Live actors, performing along with the most popular cult movie sensation in international history, provides an outrageously fun night.

Goody bags are provided - please no outside food/water/props
Costume contest on Closing Night - Sunday October 31st

Come on down to the Chateau!
It's just a jump to the left...and then a step to the right
With your hands on your hips...You bring your knees in tight
Let's do the Time Warp again...

These shows are sure to sell out -- Tickets go on sale September 1st, 2021. TICKETS
Show Details:
Friday - Saturday, October 22th & 23th
Friday - Sunday, October 29th, 30th & 31th
Show Starts: 9:00 p.m.
Doors Open: 7:30 p.m.
Tickets: $20.00 + tax
This Show is rated R, and intended for mature audiences only.
Recommend no one under 18. Minors must be accompanied by a parent.


For tickets or more information, contact the box office at (719) 685-5572
The Iron Springs Chateau Melodrama Dinner Theater

To contact us:



444 S. Ruxton Avenue

Manitou Springs, CO 80819

Phone: (719) 685-5104 or 685-5572